Wood is a beautiful element that can be incorporated into any interior design style. Whether it be used to achieve a rustic look or a minimalistic modern style, its diversity and beauty are one that is truly timeless.
Teakwood is extremely durable and has commonly been used for ship designs and outdoor furniture due to its ability to withstand weather conditions.
Teak has a natural oil that that helps it resist water and other weathering better than other types of wood. Because its natural properties can withstand moisture, it's a great addition to any bathroom design.
This article will give ideas on how you can create a relaxing and simple bathroom design by incorporating teakwood into the mix.
Flooring
Wood flooring is a must-have for most home homeowners and the bathroom is just one of the many rooms where you can take this design style.
Many people are apprehensive about using wood in a bathroom because mixing wood with moisture is thought to be a catastrophic mix, but that's not the case. Teak is one of the best woods you can use for a bathroom because of its density and ability to withstand moisture.
Teakwood flooring brings a sense of beauty to a space and can be much more appealing than tiling that's traditionally used in a bathroom. Aside from its beauty, it also can help keep a space warmer than tile would.
Wood flooring is a timeless option for any bathroom design.
Paneling
Since teak can work well on floors, it can also be a great addition to walls. Using teakwood as paneling gives a bathroom the look and feel of a spa, making it a very popular design trend.
This type of paneling is great for minimalistic design and makes the wall the focal point of the space. Teakwood paneling contrasts well with white appliances for a simple and chic look.
Whether it be used for your entire bathroom or just an accent wall, it can add a warm touch while making the room appear brighter with its ability to reflect light. It brings natural texture to the space and is completely durable.
Countertops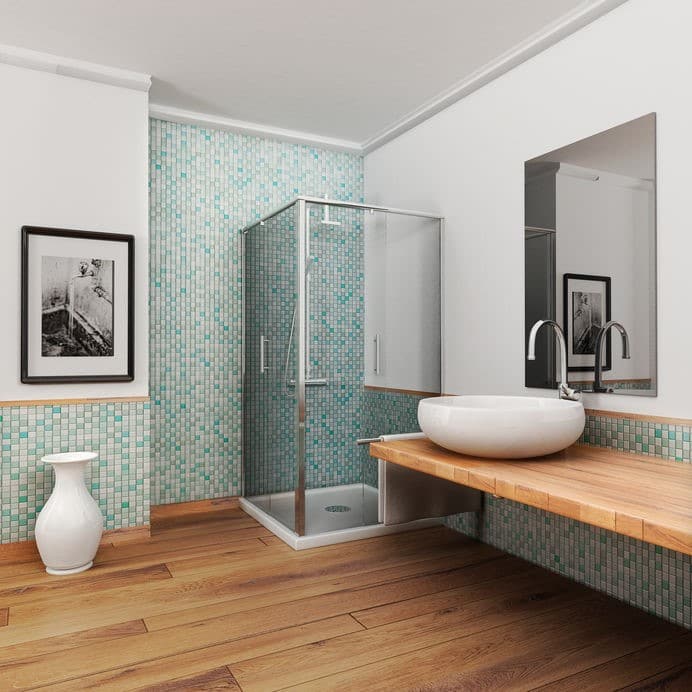 If you decide to opt away from teak paneling, teak countertops can easily take the place of your bathrooms focal point. Depending on the style you are going for, you can take it any way you want and can match it to your desired thickness and shape.
Again, teak is nearly water resistant, making it a great option for countertops. Teakwood countertops pair great with ceramic white sink basins and chrome single hole faucets.
Bathtub and Sink
Wooden bathtubs and sink basins may seem like a risky design choice, but, in fact, they are one of the most reliable choices for a perfect bathroom oasis.
Wood soaking tubs are often seen in Japan and Denmark and provide a luxurious touch to your bathroom design.
They are becoming increasingly popular and if you decide to splurge on one, it's guaranteed to be a statement piece in your bathroom and entire home.
Shower Mat
Teakwood shower mats are extremely popular and might be one of the most durable options compared to other wood textures.
Teakwood mats offer a unique and stylish component to your bathroom while remaining functional, as they provide a clean, slip free place to step when exiting or entering a shower or bath.
Shower Bench
If you have a large standing shower space, consider adding a teakwood shower bench to complete the look. Teakwood is extremely durable and sturdy and is one the best woods for furniture.
This accessory comes in many different shapes and sizes and can even include a shelf for ample shower storage.
Shelving
Maximizing your storage space is important in a bathroom. Teakwood shelves are another great option to store bathroom essentials or simply to display pieces of art or other decorative accessories.
They pair well with just about any design style and color palette. Teakwood shelves come in a variety of different options including tiered standing shelves, built in wall shelves, floating wall shelves and more.
The possibilities are really endless. Simple teakwood shelves paired with the right accessories or a crisp white towel can really add a luxurious touch to your bathroom design.
Summary
Teakwood is an extremely versatile option perfect for bathroom accessories. It provides a beautiful look and is one of the most durable, sustainable options. Whatever design style you prefer, incorporating teakwood into your décor can enhance the beauty of your space.