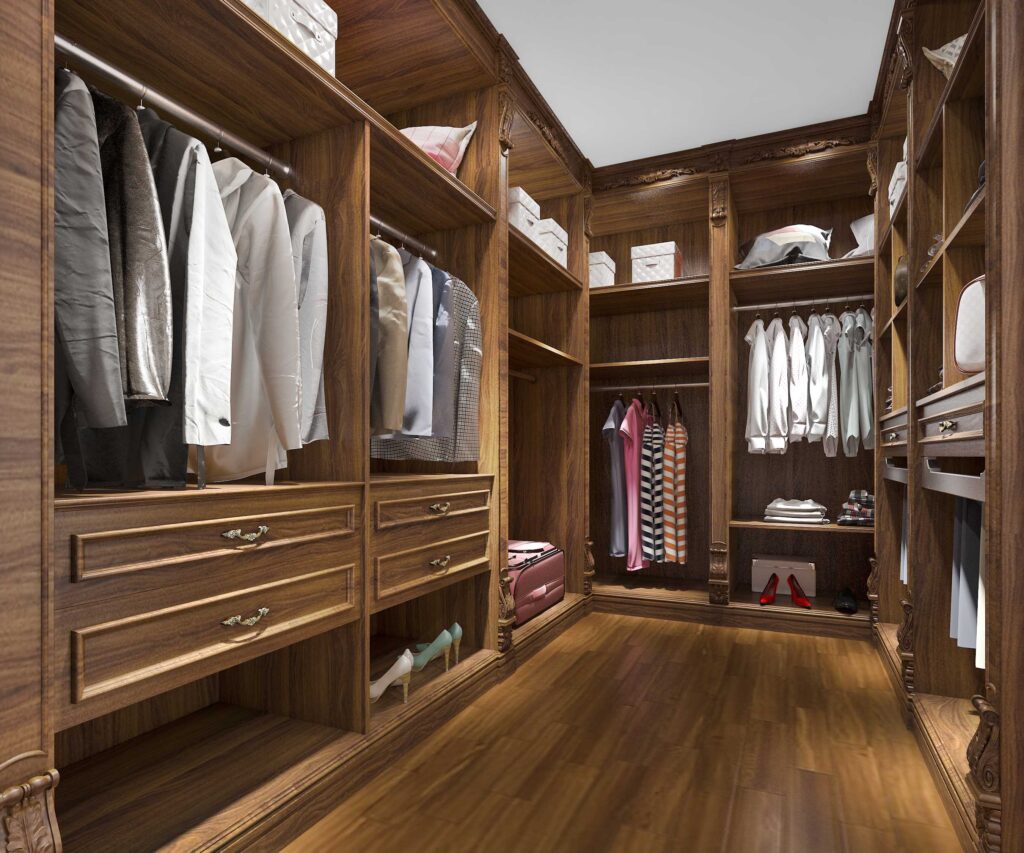 Designing a perfect wooden wardrobe may sound a big deal. But, not rocket science stuff, of course! This article will cover the most fabulous and fantastic tips, which will help you to make a suitable one for your home.
A wardrobe is an essential object of a house that cannot be missed or underrated. It is beneficial to keep your things safe in one place along with adding beauty, glamour, and style to your bedroom.
Besides, one should consider various points before building or designing any wardrobe—for instance, the size of the room. Also, space, shape, color, design, and material are important factors.
Things to consider to design a perfect wooden wardrobe
Size of the room
First of all, you need to consider the size of the room for which you are going to design a wardrobe. Space available in the room is the most significant factor that matters a lot. So for big rooms, you should have a big wardrobe, and for small and contemporary rooms a small wardrobe will go well. However, a talented designer can also give you a wonderful wardrobe in a constricted room.
Interior décor
A wardrobe also adds beauty and glamour to the room. So, it should complement well with other furniture and interior decoration of the room. 
Design of the wardrobe
For designing a chic, stylish, and perfect wardrobe, you need to decide the design of your wardrobe before time. There are hundreds of designs available, which could be an inspiration to start. So, choosing the right design as per your dreams and need is the foremost concern.
Color of the wardrobe
As we're discussing a wooden wardrobe, you have to paint or coat it to give the final touch. However, this is an option only if you choose ply over timber. It is necessary to decide the perfect color combination that would mix and match with other furniture that is present in your room.
Basic requirement
Before selecting and designing the perfect wardrobe you should consider your needs. For instance, the wardrobe is for a single person or a family with kids. How many clothes, shoes, bedding, and other belonging you have to place inside the wardrobe? One door or the double door design of the wardrobe will be convenient for you. So, you need to do the inventory of your things. And prepare a complete list before planning a perfect wooden wardrobe. 
Type of wood
Now comes the main factor, which plays a significant role in producing a perfect wooden wardrobe. We are well aware that there are different types of softwood and hardwood. So, you need to decide which type will meet your needs and expectations better. Either pine or walnut-style wardrobe or teak or kwila one would do the need.
Different designs of wooden wardrobe available in the market
Cool shaded and contemporary
A cool shaded wardrobe is a perfect design for contemporary rooms. Moreover, the dresser with one door gives a flawless appearance and enticing vibes.
Herringbone pattern
This type of wardrobe adds beauty and makes your room appear more decorative and charming.
Mirror-effect
What more to boast than having a wardrobe with a mirror! The mirror frame gives a more stylish and chic look to the room. This type of wardrobe helps make your room appear larger because of mirror panels. At the same time,
Freestanding
This is the most fantastic wardrobe design for those who have to shift from one place to another. Also, it complements well the light flooring and the whole decoration of the room.
Muted and mild
This is the calmest and decent style, which adds sobriety and elegance. This wardrobe will be the center of attention for everyone because of its functionality and design.
Shakers style
This wardrobe is equally helpful for adults and kids. It is available in different colors and designs, so you have maximum freedom to choose what caters to your need or as per your dreams.
Burl walnut style
It is best for small rooms as it has enough space to keep most of the things inside it quite easily.
Oakwood wardrobe
The oak tree is the most famous for making wooden furniture. Therefore, the oak wood wardrobe has a stylish knob and provides enough storage also.
Pine Wood wardrobe
It is available in all shapes and sizes. The pinewood wardrobes are durable and stand for a more extended period.
Few Tips For Designing A Perfect Wooden Wardrobe
Shelf, drawers, hanging rail: Try to make significant and small shelves both. High shelves can be used for keeping bedding, towels, and pillows. On the other hand, small shelves are perfect for keeping your clothes and other accessories like socks, etc. There should be a high railing so all the clothes can hang easily.
Hooks in the door: Hooks on the door helps to hang ties, belts, and other suchlike stuff easily.
Sliding door wardrobe: Sliding doors are the talk of the town nowadays. It's because they are more convenient, look good well as take less space.
Glass doors: Glass doors are something that maximizes the beauty of the whole wardrobe.
In conclusion, we can confidently say that if you have gone through the whole article, you would have got a better idea of designing a perfect wooden wardrobe. Now you have to decide which one will best suit your needs and perfect for your room. A wardrobe has become an indispensable part of home decor. Over the years, with advanced technology, there are many versions to suit small rooms, too.
Along with that, it adds beauty, elegance, and style to the room. A beautiful wardrobe gives a tidy and magnificent look. And we always prefer wooden wardrobe because of their longevity, environment-friendly nature, and quite appealing and unique look.